Feb 06, 2020
What New Federal IT Sales Reps Need to Know: Contract Vehicles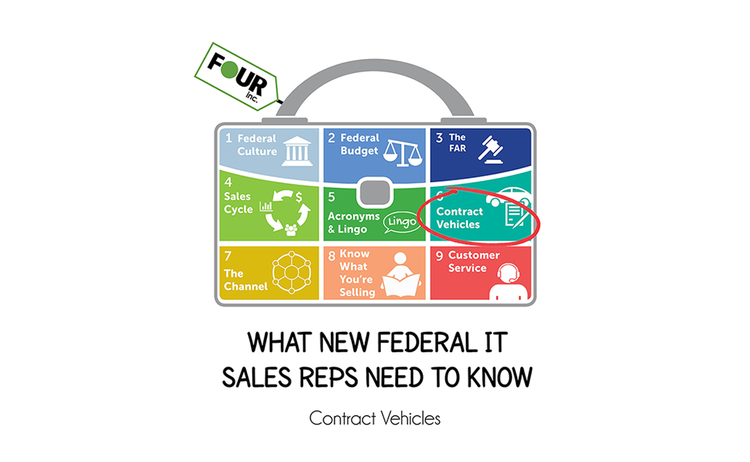 As our previous blog posts have suggested, the Federal IT procurement process can be complicated. Government agencies don't have the luxury to shop online and buy whatever they need whenever they want like we're able to as consumers. If only Federal IT procurement was as easy as Amazon Prime! Contract vehicles exist to try and help with that process.
Federal Government Procurement Process
Before you can fully understand Contract Vehicles, you need to be familiar with the Federal procurement process and sales cycle.
The procurement process is governed by the Federal Acquisition Regulation (FAR). If you haven't already, check out our previous blog posts for more information: Understanding the FAR and The Sales Cycle - Federalized.
The process begins when an agency identifies a need and develops a requirement (a detailed description, justification, budgetary detail of the items the user needs), which becomes a solicitation.
Solicitation is a generic term – you'll also see this called a Request for Quote, Request for Proposal, Request for Information, or Market Research Request.
Companies that are interested in providing the requested items will prepare a response to the solicitation. Government contracting personnel will evaluate the offers to determine which offer represents the best value, and will issue the winning company a prime contract award.
Simple enough right? We're just missing one important piece of the puzzle…
Any time the Federal Government is spending money to acquire goods or services, they must operate in accordance with the FAR. A few key elements of the FAR, like competition and the requirement for fair and reasonable pricing, make the acquisition process slightly more complicated.
In order for the Government to check the necessary boxes for FAR requirements (specifically competition and fair & reasonable pricing), and not spend months on each procurement, they use… (drumroll)…. contract vehicles!
What is a Contract Vehicle?
A contract vehicle is a contract, or group of contracts, which allows the Government to streamline the procurement process by establishing a government contract vehicle through which to procure varying items.
Contract vehicles exist to provide the government with cost savings, time savings, and necessary safeguards. Each contract is managed by a central federal agency, and the contracts vary in terms of scope (what they offer) and audience (who can use them).
There are several types of contract vehicles or contracts, broken down in greater detail below:
Government Wide Acquisition Contract (GWAC)
A GWAC is a pre-competed, multiple-award (meaning multiple companies are awarded the same contract) contract that is available to all Government agencies.
While many contracts meet this definition, only specific contracts rise to the level of "GWAC," which have been approved by Office of Management & Budget (OMB). It is, as it sounds, available for procurements across the entire Federal Government. The following contracts are currently authorized GWACs:
You can read more about some of these GWACs below!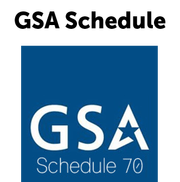 One of the most common contract vehicles is called the GSA Schedule. This contract is managed by the General Services Administration (GSA) and provides categories of products with corresponding price lists through which government customers can purchase. GSA is open to all Federal, State, and Local Government customers.
There are multiple GSA schedules*, which cover the wide variety of items the Government would need to purchase. Anything from software, to office furniture, to simple office supplies can be purchased on GSA. The GSA Schedule applicable to our industry is called the GSA Schedule 70, which covers all Information Technology (IT).
* Note – GSA is beginning to consolidate schedules to ease the management burden on Contract Holders (yahoo!). If you're extra curious, you can read more about that here: GSA Consolidation
Any company or contractor may apply for a GSA Schedule contract at any time. It is a sometimes challenging and always lengthy process, but unlike many contract vehicles, winning a GSA Schedule Contract is not a competition against other bidders.
GSA is unique from many other contracts because the products, terms, and prices are all pre-negotiated by a GSA contract specialist prior to being allowed on schedule. That due-diligence takes a lot (A LOT) of time, and maintaining the schedule contract with product evolutions and pricing changes can cause delays.
For products available on a GSA Schedule, it is an "easy button" for Government buyers – they know anything available on GSA complies with the FAR and is considered a fair price.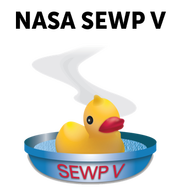 Out of the above contracts listed, NASA's System for Enterprise-Wide Procurement (SEWP) is one of the most popular contracts for procuring IT today. All federal agencies and some authorized government contractors are able to purchase IT products and services from SEWP-authorized resellers (also known as Contract Holders).
SEWP V is a successor to SEWP I, II, III, and IV; started by frustrated scientists in 1993 who believed there must be a simpler way to purchase their technology.
NASA has remained true to that mission and is the most flexible, customer-friendly contract vehicle in the industry. SEWP allows customer to procure complete solutions (for example, a Government customer can issue one order for software, hardware, and services on SEWP versus needing three individual contracts on GSA).
NASA provides high-level pricing oversight and standard FAR clauses, but does not deeply negotiate price and terms; they allow the procuring contracting officer to do whatever analysis and negotiation they deem necessary. This key difference enables NASA SEWP to move much more quickly; contract holders can add products to SEWP in 24 hours or less.
SEWP boasts that every single Government agency has used SEWP V to procure their technology and that most (almost all) IT products are available for sale. As an added benefit to Federal buyers, SEWP helps facilitate fair competition by providing an RFQ tool which distributes solicitations to a variety of different "groups" (small business, HUB Zone, Service-Disabled Veteran-Owned Small Business, etc.) and strictly enforces high standards of conduct and performance of SEWP contract holders.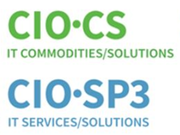 The National Institute of Health (NIH) sponsors the other two OMB-authorized GWACs, CIO-CS and CIO-SP3. These contracts are pre-competed (you have to compete for your spot as a contract holder) and pricing is pre-negotiated at the contract level. CIO-CS offers IT Commodities & solutions, and CIO-CS offers IT services.
There are many other contracts available for the Government to use. Generally, each contracting office has a preferred, or sometimes required, contract vehicle. The GWACs named above are certainly the largest, however, there are dozens of other options – many of these are agency-specific IDIQ contracts.
Indefinite Delivery/Indefinite Quantity (IDIQ)
An IDIQ contract is a vehicle in which government customers can purchase goods and services over a predetermined period of time. Each IDIQ contract typically spans five to ten years, and can be a multi-award (awarded to more than one contractor) or single-award (awarded to one contractor).
The vehicle itself is the IDIQ, meaning the customer can buy any quantity they require. Orders against that vehicle are called "Task Orders" or "Delivery Orders." If the IDIQ is awarded to multiple contractors, those companies will compete with each other at the order level.
There are dozens, if not hundreds, of IDIQ contracts issued by Government agencies for a variety of purposes. Here are some of the most notable IDIQ contracts:
ITES-SW – Offers software to the Army
ITES-3H – Offers hardware to the Army
ITES-3S – Offers services to the Army
NETCENTS-2 – Offers IT solutions & services to the Air Force
FAA SAVES – Offers IT solutions & services to the Federal Aviation Administration
ENCORE II – Offers IT solutions to DISA
Knowing Your Ecosystem
It is nearly impossible for any single company to hold a prime contract (which allows you to bid directly to the Government) on every available contract vehicle. The key to success is to understand your customer's preferred procurement vehicle and find yourself a trustworthy path to that vehicle.
Good partners (ahem, Four Inc.) will often handle that headache for you! Buddy up to the contractors who place a value in contract access and partner relations, and you will rarely miss an opportunity due to the procurement method.
Check out the contracts Four Inc. has to offer, and call us anytime if you need help selling on one not listed here.
Happy selling!