Mar 29, 2018
What New Federal IT Sales Reps Need to Know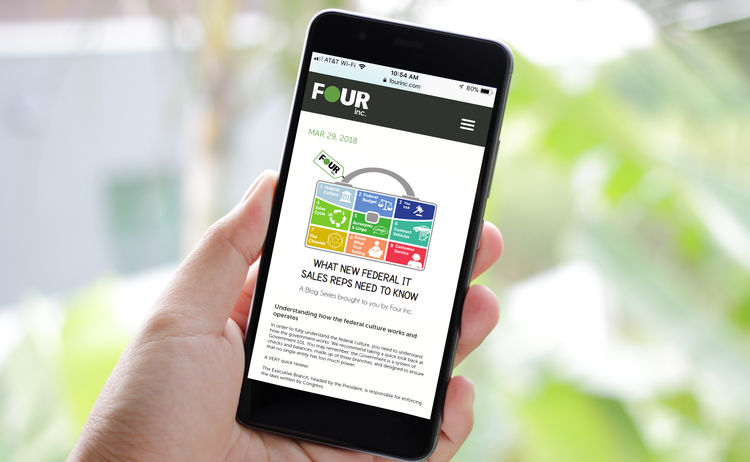 You find yourself staring at your cell phone screen in disbelief at the call that just ended. You landed your first job out of college at a well-known IT company that sells to the federal government. You can't believe your luck that out of 40 plus applicants they have chosen you!
Following a small celebratory fist pump to the air you feel a twinge in your stomach for fear of the unknown. You think to yourself "I have no idea how to sell to the federal government. Where do I even begin?"
Nobody ever walks into a job fully prepared with all the answers, especially in the Information Technology space; a place in which a learning curve is ever present. However, doing some research and due diligence to understand the basics will only help you in the long run.
So, what is the secret sauce in order to succeed in Public Sector sales? Well look no further…
Welcome to the new Four Inc. blog! Your permanent home for all things IT. Over the next several weeks, we're going to be sharing our thoughts on what new federal IT sales reps, like you, need to know about the industry and some practical tips we think will give you a jump start in your new role.
Today, we'll give you an introduction to the topics – and for the next few weeks we will say a bit more about each.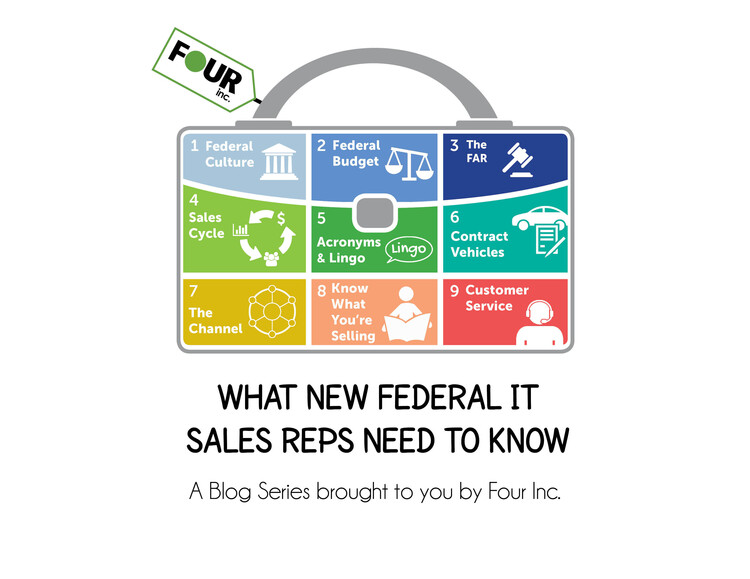 Understanding how the federal culture works and operates
In order to fully understand the federal culture, you need to understand how the government works. We recommend taking a quick look back at Government 101. You may remember, the Government is a system of checks and balances, made up of three branches, and designed to ensure that no single entity has too much power.
A VERY quick review:
The Executive Branch, headed by the President, is responsible for enforcing the laws written by Congress.
The Legislative Branch, which consists of the House of Representatives and the Senate (together known as Congress), has the power to make laws.
The Judicial Branch is made up of the Supreme Court, and many other smaller courts; their job is to interpret the laws.
Simple enough, right?

The Federal Budget
The Federal Budget is of utmost importance to federal IT sales reps because it's the source of money that will pay you. After all, we have college loans to pay off! It's important to understand the basics of the budget, which is the government's estimate of spending and revenue for each Fiscal Year.
Here's a quick overview:
The Government's Fiscal Year runs from October 1 through September 30. In the fall, Congress and the Executive Branch determine all budget details including what funds are allocated to each agency.
The president's role with the federal budget is to submit a budget proposal to Congress. All federal agencies submit their requests to the president which are compiled by the Office of Management and Budget. Congress follows the president's budget as a guideline in order to create its own budget resolution. This entire process lasts about 18 months.
If, for some reason, the schedule for the current fiscal year's budget is not met, then Congress submits a continuing resolution (also known as a CR) to keep the government running until a budget is approved.
It's like an allowance.
When a budget is not approved, the government shuts down. It is tough to sell software during a CR or shutdown, since all procurement folks tend to freeze during this time.
If you've paid any attention to the news over the past couple of years, you know that government shutdowns and CRs are becoming more frequent, so what can you do if one occurs while you're trying to make a sale?
We're glad you asked.
The trick is to get creative so that you can get your deal done (quick plug for Four Inc. – we can help you get creative).
Fear not, in an upcoming blog post we'll walk you through some of the best ways to creatively make sales even when the government is shut down.

What is the FAR and why should you care?
The Federal Acquisition Regulations (FAR) and the Defense Federal Acquisition Regulations (DFARS), a supplement to the FAR, is written guidance and regulations for every possible acquisition scenario and advises the Government on how to legally proceed with purchasing goods and services (i.e. your stuff).
Basically, it's a set of guidelines for how the government is allowed to buy your stuff.
You don't need to read or memorize the FAR, but you definitely need to understand the basics. We recommend starting here.
After you have a basic understanding of the federal environment, you of course have to understand how to sell your cool stuff.
Que the procurement cycle:

Procurement Cycle
The procurement cycle is, in a nutshell, the key steps that typically occur when a customer is seeking to order and pay for products that their organization requires.
As a budding IT sales representative, understanding this procurement cycle is absolutely critical because it gives you an insight into how your customer thinks, the questions they're going to ask, the needs they need met and the restrictions they may have along the way.
The sales cycle can sometimes be long and arduous, but with some work, you can learn to navigate it very quickly.
Here's a quick run-through of what the procurement cycle typically looks like in the federal world.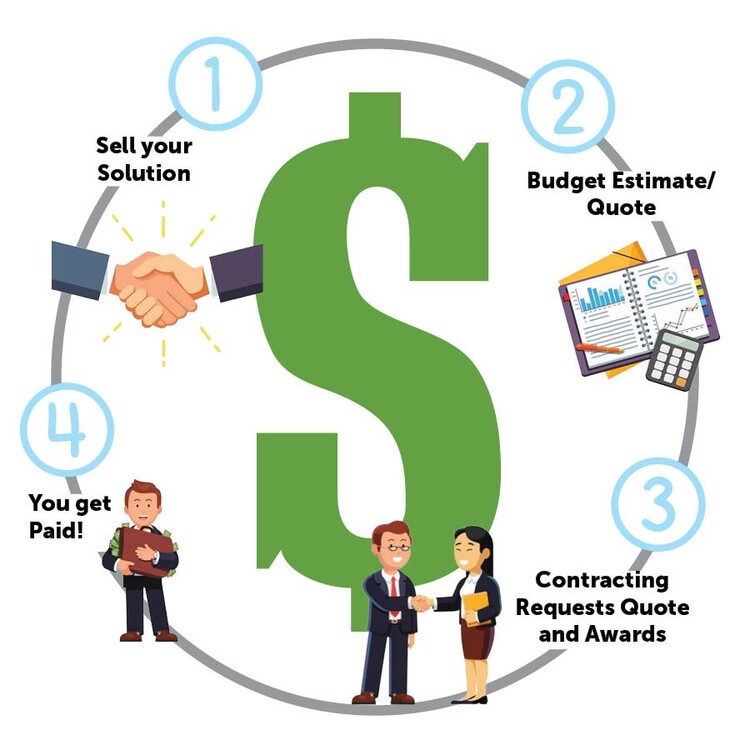 First, you must sell your solution to the person who is actually going to use it, i.e. the end-user. Once they like it, they will probably ask you how much it costs.
Next, you will provide this person with a ROM (Rough Order of Magnitude) or Budgetary Estimate, which is a basic quote. The end user needs to understand if they can actually afford to buy your cool stuff.

They will need to get necessary program approvals and find adequate budget prior to submitting your ROM along with their request to the contracting office.
Contracting is the true gatekeeper; the contracting office will formally request an official quote, through a chosen contract vehicle (described below), and award the final purchase order, or contract, to buy your stuff.

Then, you get paid! Loan balance = less. Sweet.

Know your acronyms, understand the lingo
The Government (and the industry that supports them) is known for speaking in acronyms. You've probably experienced this if you've ever tried reading through IRS tax forms.

The problem is that there isn't a lot of consistency across government agencies which means that important acronyms can sometimes vary between DOD and Civilian agencies.
It's kind of like how linguistic styles and accents vary depending on where you are in the country. You want to make sure you're saying the right thing the right way.
Before you start freaking out about the fact that you're going to have to learn a new acronym language, let us calm your fears. Linked here is our handy list of some of the common acronyms you'll see in your work with the federal government. Consider it a cheat sheet that you're allowed to use during a test. Familiarize yourself with important terms on the list so that you're able to keep up during Government conversations.

Contract vehicles
A contract vehicle is a streamlined method the government uses to buy goods and services.
This is important to understand, because you can do all the hard work to sell your technology to an end user – but get stopped because of contract vehicle issues.
The vehicles are centrally managed by a federal agency to reduce administrative costs, help ensure the Government is properly following the FAR's requirement for competition, support pre-approved Government-friendly terms & conditions (in accordance with the FAR), and assist a Contracting Officer in knowing an acquisition is compliant with the FAR.
In most cases, the Government has a preference or requirement to use an established Contract Vehicle, Government Wide Acquisition Contract (GWAC), or contract to procure IT. Preferences including mandates for certain vehicles or contracts tends to vary by agency.
Manufacturers and contractors hold a variety of contracts – knowing the contractual preferences of your customers is key to expediting the sales process because you can help line up resellers who can offer your products on the customer's preferred contract.

Types of contracts/vehicles:

GWACs (Government Wide Acquisition Contracts) – A multiple-award, IDIQ contract that allows federal agencies to purchase products or service Examples: NASA SEWP V, GSA
BPA (Blanket Purchase Agreement) – A GSA-based contract which usually establishes terms and discounts, eligible purchasing agencies, and a scope of eligible products. These can be held by multiple or individual contractors. Examples: DOD ESI BPA
IDIQ (Indefinite Delivery Indefinite Quantity) – Provides a method for the Government to procure an indefinite quantity of supplies or services during a fixed period of time. IDIQs can be held by multiple contractors (i.e. a GWAC) or a single contractor (an agency specific IDIQ).
In addition to contract vehicles, the Government also has ways to streamline their procurement process using Socio-economic or small business statuses governed by the SBA.
Each agency has a goal for the percentage of procurements that should take place within each status, and they will earmark specific acquisitions to meet those goals.
Socio-economic statuses include:

Small Business (as defined by NAICS code)
8(a) – socially & economically disadvantaged businesses, including:

Woman-Owned Small Business (WOSB)

HUBZone – Historically Underutilized Business Zones

SDVOSB – Service-Disabled Veteran-Owned Small Business

VOSB – Veteran-Owned Small Business
The Channel
Taking advantage of the channel is key to your success! Your channel, or group of resellers and solution providers, supports and extends your sales efforts and provides quick access to contract vehicles.
Individual partners will bring unique strengths to your sales process, including trusted relationships with a certain customer, procurement expertise, financing, or expert installation to support the adoption of your product. Get to know who is in your channel, and strategize how you can leverage their strengths.
Know what you're selling
Of course, in order to sell something, you must understand your product. Learn as much as you can about the technical aspects.
If you're not technologically minded, that's okay! Most likely, you will also have access to software engineers within your company. These are the really smart people that understand how your technology really works from the inside out and they also have a vested interest in helping you sell their technology.
These folks will often help you with the "technical sale" with the end user.
You should also understand your technology from a licensing perspective. This ensures you're selling to the customer the proper configuration enabling them to be successful. Know the difference between Perpetual Licenses and Subscription Licenses and the different types of users associated with licensing.
General customer service and professionalism
We cannot stress enough the importance of professionalism especially when it comes to customer service.
Sales is a game of relationships.
Government employees are people just like you who want to be treated with the value and respect that you would expect from a business. That's why sales reps who combine a professional image with quality service have better luck when it comes to attracting and retaining customers. Professional customer service helps build trust while also meeting the needs of your customers. A win-win for both.
So, there it is. Our quick-hit list of need-to-know basics before starting a career in federal sales.
Did we give you everything you need to know about selling to the government?
Definitely, not. But we hope we gave you a starting point and the ability to accept that job offer with limited fear! Keep on the lookout for future blogs from us as we dive deeper into the subjects we talked about today.
The best way to do that is to follow us on LinkedIn or Facebook, where we'll be sharing all our latest posts.
See you then!