Jan 06, 2022
What New Federal IT Sales Reps Need to Know: The Channel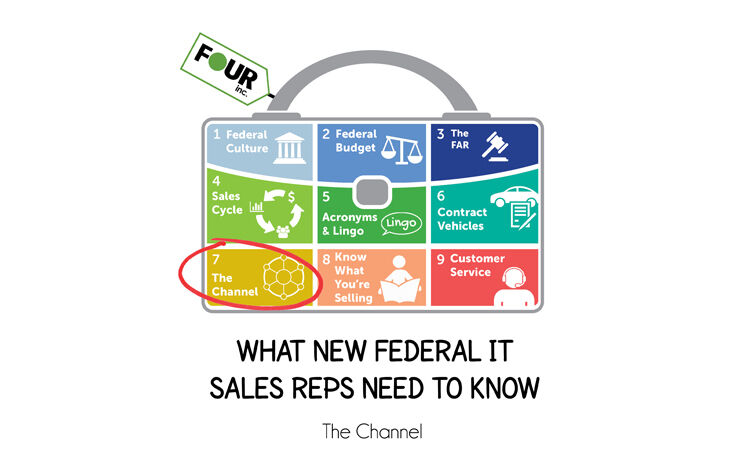 Picture this, it's your first few days on the job as a new Federal IT Sales Rep. You sit down at a weekly sales meeting and acronyms are flying all over the place – channel terminology such as VARs, SI's, Disti's, SDVOSB, WOSB, and federal contracts like GSA, SEWP, ITES-SW2, and on and on! Your fast-finger Googling can barely keep up!
Quickly, you realize you need to better understand how the federal procurement channel works – basically how does the "off-the-shelf" IT products that technology companies create, make it to Government users? What are the steps needed, and who are the players along the way?
A speedy Google search, and *BAM* – here you are – at Four Inc.'s website, here to help find the answers!

Introduction to the Federal Procurement Channel
Why does knowing the "ins" and "outs" of the federal channel help you as a sales rep? Does it lead to more sales, making more money, becoming a sales rock star? Fully understanding the channel and knowing what roles each party plays are key factors to help you position your products to government users, close more opportunities and possibly increasing your sales.
Here are the basics:
What is the Federal Procurement Channel?
The federal channel is the process, or avenue by which Original Equipment Manufacturers (OEMs) get their IT solutions sold to the federal government. The channel can provide access to a government contract that an agency prefers to leverage, technical capabilities that are aligned with a product and/or a partner that may have government relationships to help you open the right doors.
Sometimes selling to the government is as easy as taking one contracting step, but it can be as complicated as having to take ten such steps. The key is knowing the players, and how they all work together.
The primary types of companies that take part in the federal channel are Resellers, Value-Added Resellers (VARs), Distributors (Disti's), System Integrators (SIs) and sometimes specialized partners that focus on niche solutions.
Each federal sales transaction is bookended by the OEMs and the contracting officer, a warranted officer that is authorized to procure IT for government agencies and for the end user. Yes, you "sell" to an end user but the product(s) is "purchased" through the government acquisition process via an agency procurement office. This is unique in the federal government and the channel can help with either end-user access or finding efficiencies through the procurement process. We will get into the definitions of each type of channel partner and the role they play, in greater detail, below.
Another important element to understanding the way a channel will flow, is recognizing that different manufacturers have different routes-to-market.
For example, some manufacturers may solely rely on VARs to market and sell on their behalf. This is typically a more commodity-based product that enjoys "pull" from the market. Others co-sell with VARs or leverage system integrators to position their products. You see this in more complicated, enterprise-based products. Lastly, some OEMs even sell direct to the government - that said, it is not the norm. The great news is that the channel can be very flexible based on the requirements given for how the OEM goes to market.
The end goal for the channel and the players in it, is to ensure efficient and secure flow of IT solutions to federal customers.
An added advantage of working with companies who are well versed in the federal space is that they have seen every kind of deal flow, and know how to efficiently navigate these, sometimes-confusing, waters.
Who Are the Key Players in the Federal Procurement Channel?
Manufacturer/OEM
A manufacturer/original equipment manufacturer (OEM)- sometimes referred to as a supplier - is a company which produces Information Technology hardware, appliances and/or software products.
IBM, Palo Alto Networks, Infoblox, Riverbed and BMC are all examples of major IT manufacturers in the federal market space.
With respect to an OEM, the role of the channel can be as simple as providing a contract for order fulfillment. But in most cases, the channel is used to broaden and expand their sales coverage, like an extension of their own sales team, giving them access to more sellers, more relationships and more technology experts. As the number of channel partners grow, the need for a Disti (more on Disti's in a moment) comes into play to help manage these partner relationships.
Value-Added Reseller
A VAR, or an authorized reseller - is a company with information technology expertise, product certifications, agency- specific knowledge and/or government contracts that enable the sale of IT solutions to the federal government on behalf of manufacturer(s).
VARs are in essence "adding-value" with their sales and technical expertise and knowledge as they present technology solutions to government customers. Some examples of VARs include Blackwood, Thundercat Technology, ClearShark and ThreeWire.
Distributor
A distributor, also known as a Disti, is a business that acts as an intermediary between vendors and VARs or SI's in the distribution of software or hardware. They manage the OEM's partner program. from recruiting and enabling the OEM's selling partners to managing all the operational aspects such as quotes, orders, partner credit, technical certifications and other services required by the OEM. Here you may have heard of Carahsoft, DLT or immixGroup.
System Integrators
A systems integrator (SI) is a company that specializes in bringing solutions to larger, more complex government IT challenges. These can be from integrating multiple products including hardware and software to function together as one solution in support of a major government program. This is known as system integration. Examples of System Integrators include Leidos, General Dynamics, Lockheed Martin, and Booz Allen.
Specialty Partners
Value-added niche partners are focused on very specific disciplines, maybe based on a particular technology or technical ability they possess in relation to the products being offered and, as such, act on-behalf of the government in particular, technical-need-driven situations.
Financing Partners
A company that finances IT acquisitions when a customer needs technology but lacks a budget to buy the complete solution or product. Financing partners can provide payment plan solutions that can act to bridge multi-year, base-plus-option year contracts, sort of an intermediary enabling the product to be delivered in the base year award but paid for through the life of the multi-year contract.
These financing partners can also help meet unique license preferences for your customer. For example, if you sell perpetual licenses but your customer wants to consume your licenses as a term license or an as-a-service basis, Financing partners can solve for these types of cases.
What is the Typical Federal Procurement Channel Flow?
Okay, so finally you have a sales opportunity. As we talked about in the beginning, there are many different ways a Federal IT channel can flow. Let's provide two examples that we typically see in the marketplace
Example 1 – Normal channel deal flow
Your company already has a channel ecosystem that is managed by a federal disti and your VAR has identified an opportunity and has the preferred contract that the agency intends to utilize to buy the products.
Customer requests a quote from your VAR partner
Your VAR can either go direct to the OEM or the distributor to request the quote
OEM will put together the bill of materials and generate a cost quote to the Disti – again, the Disti is managing the partner transactions so they are responsible for quoting to the VAR
The Disti usually has a pre-negotiated cost markup, they add that, and generate a quote representing the VAR's cost
Yes, finally a cost quote can be provided to the government customer after the VAR adds their value-add markup. These quotes are always submitted to a contracting officer or to a portal (which reaches a procurement person) depending on the contract of choice
Once a government award is made, the order is issued to the VAR, then to initiate product fulfillment, orders are placed in reverse, down the channel, VAR to Disti to OEM
When the order is placed to the OEM via the Disti and, in cases of SW, it is typically shipped directly to the end user

Example 2 – Special prime needed - Service-Disabled Veteran-Owned Small Business (SDVOSB)
Again, your company sells through a Disti and one of your partners has identified an opportunity (i.e. they registered the deal with the OEM) but the government requires a prime contractor with a social-economic status, in this case a SDVOSB. The problem is that your registered partner, that found the opportunity, does not have that contractor status.
The process is much like Example 1 but with an added partner layer to the channel transaction
In this case, either the OEM or the Disti will recommend a SDVOSB to leverage for the deal; or the Agency may have a list of preferred SDVOSB partners
Disti will have a hand in ensuring that the SDVOSB has proper credit to support the transaction
By having another channel layer it adds potential complexity and risk so it's important that all parties are aligned to support the deal properly. Best practices dictate that the Disti takes a proactive role in ensuring the VAR and SDVOSB quotes the opportunity correctly. Lastly, the SDVOSB role is contract fulfillment so either the Disti and/or the VAR negotiates a fee structure with the SDVOSB
At award, the government awards to the SDVOSB, who then orders through the VAR who places an order to the Disti who then places the order to the OEM

End to end, you need be able to adapt to your customers' procurement requirements and Example 2 is great illustration of providing the right channel structure to support a unique SDVOSB-specific deal.
We understand this is a channel 101 view but it should get you started. In the end, understanding the channel is very necessary for any sales rep to successfully sell into the federal government. Your company may already have a channel in place so getting to know who they are and how they will work with you is important.
You also may not have a channel. In that case, start thinking about how you want to go to market – the type of partners you need to accelerate your sales. The most critical element is to understand who, what and how. Once you figure that out, you will begin to see success.
If you still aren't sure how to get started, please don't hesitate to reach out to Four Inc. We would be happy to help clarify and guide you on how to structure your deals or to provide guidance on your channel strategy!