May 16, 2022
We Are Family: Michael Lucas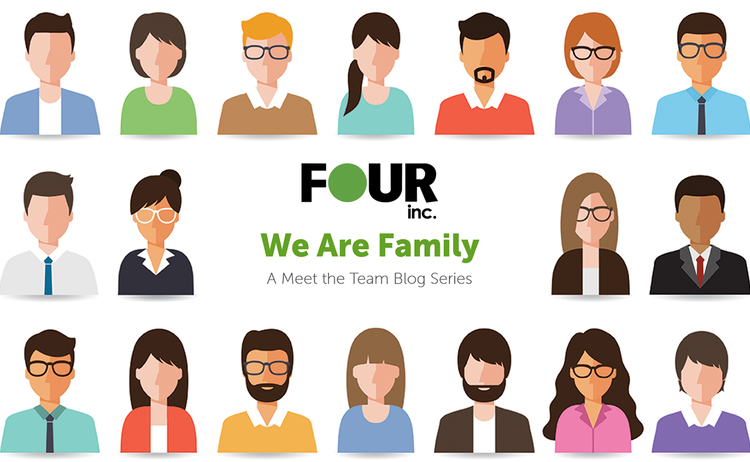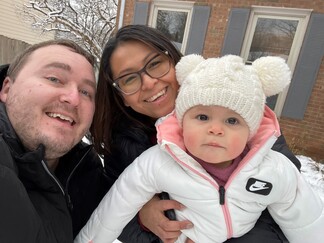 Welcome to our "Four Inc. Meet the Team" blog series! We invite you to get to know our Four Inc. family; the people that make this organization great. This week we are excited to introduce our Manager of Programs, Michael Lucas!
Tell us a little about yourself.

I've been with Four Inc. for almost nine years now. I was born in a small town in Ohio, not far from Dayton. I went to school in Western New York before transferring to Park University, and graduating with a degree in Management. I married my beautiful wife, Bea, 6.5 years ago in El Salvador, the place she still calls "home. Together we have a daughter, Isabella, who will be 2 years old this month. When we're not chasing Isabella around, or being given strict instructions on her daily activities; I enjoy traveling and craft beer.
Why did you decide to join the Four Inc. family?

I was given an opportunity by a former Four Inc. Program Manager to make a shift from a more technical role into a role supporting contracts and acquisition. I was at a pivotal moment in my career, was desperately seeking stability and had the desire to be surrounded by intelligent and hardworking people. I knew I would soon begin a family and I was ready for a change.

What is your Four Inc. story?
Before I began at Four Inc., I was outside smoking in the designated corner in which all the smokers had to gather. I'm glad I gave up smoking not long after that day, but one very positive thing that came from it, was a program manager listened to me talk about my goals and ideas and the next day came to me with an idea. I knew the Four Inc. team at the time was a small, yet professional, group of individuals and I was excited for the change. Little did I know just how awesome this company would be and I could tell it was going to be a positive experience from my first interview. I'm glad those days of uncertainty and being "just a number" for various large contracting firms are behind me.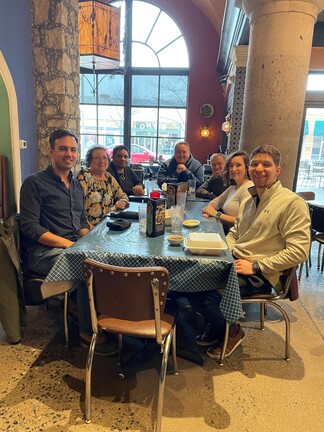 What does a typical day as a Manager of Programs look like?
I'd start with laughing at the concept of a "typical" day. My role is primarily to oversee our existing services contracts/programs, ensure contractual compliance, interface with the government and industry partners or subcontractors, and, in general, make all of the parties involved happy and successful.
I balance a variety of meetings, answer emails, respond to incidents all while keeping a focus on future opportunities. I also have the pleasure of working directly with just about every individual in the company. While I laugh at the days being somewhat unpredictable and sometimes chaotic, I wouldn't have it any other way! I enjoy the variety and constant challenge, and it fits my personality as I am a certified EMT and handled a variety of challenges in that role for 5 years!
What has been your biggest accomplishment since starting at Four Inc.?
Without a doubt I'm most proud of the people I've been fortunate enough to help hire and bring into the company. I've always enjoyed helping others, and there's something especially rewarding seeing someone get an opportunity they've earned and deserve. Seeing the folks I've hired go on to have rewarding careers and growing personally excites me. I take pride in accomplishing very difficult projects, and in my experience, people are the most critical part of success in our industry.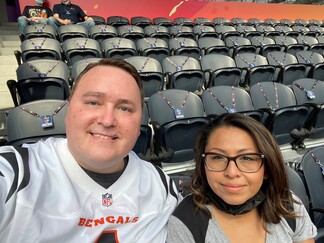 Outside of work what are your hobbies?
As I mentioned before, I enjoy traveling and craft beer. While both of these have been greatly affected by having a toddler in the house, I still do what I can to enjoy them. You can't beat a trip to the beach and the sights and sounds of the sparkling blue ocean. A quiet day in the sand is never a bad one. Regarding craft beer my buddy John can certainly recall my first trip to a local craft brewery, but since then it seems like something that was a calling of sorts. My family has owned bars and restaurants for many generations, so I've enjoyed not just seeing the new creations from the breweries but also meeting the people behind the kegs and hops.
What is your best piece of advice that you'd like to share?
That's a tough one, I've been blessed to be around so many great leaders. Lately I've thought of this advice often: always remember no matter what happens, tomorrow is a new day. Every day we wake up with a fresh opportunity to shape the day and its outcome. If it goes well, build on it the next day. If it's a challenging day, remember a new day is right around the corner.
Here's what Michael's team has to say about him!
"What has always impressed me with Michael is his knowledge and knowhow in so many aspects of this industry. From day one I was awestruck in his ability to tell me about everyone within the DOD: what their specific roles are, where they come from, and how they correlate to Four Inc. His relationships run deep and it shows on a daily basis. Not only that, he's willing to drop whatever he's doing to hop on a call, make introductions, send an email, look into an RFI, or work on a proposal with you. The list goes on and on. Michael is always willing to dive into the weeds on deals and is truly a selfless guy eager to go the extra mile to make sure you will be successful. I'm happy to call him not only a colleague, but a friend… even though he is a Red's Fan." ~John Todd, Account Manager
"I've worked with Mike, in some capacity within Four Inc., for almost seven years. He is the kind of person you need at a company like Four Inc. He approaches his work with a quiet diligence that many people don't get to see. Between his sense of humor, in our weekly meetings, and his focus on getting things done the right way; Mike is a very easy person to work with and learn from." ~Evan Maraist, Assistant Facility Security Officer
"Mike came to HQ last March after spending many years supporting a services contract and leading our team. He quickly dove into managing some pretty complex contracts with extremely challenging subcontractors. Mike came with an open mind to learn, high energy and focus that made strong first impressions. That is Mike. He believes in establishing relationships, jumping in to solve problems and generally helping others. Now he has made himself an integral part of the sales team and that is exactly how we want it! On the personal side, he is a proud father (Isabella is very adorable) and has quickly mastered barbequing on his electric smoker. Lastly, over the past year I have learned about his knowledge on microbrewers and his good taste in beer. So, whenever I find myself in a bar with Mike, I tell the bartender "I'll have what he just ordered" – that is a winning strategy. We are lucky to have him at HQ and it is a pleasure to work with him."
~David Stewart, VP of Corporate Development
This is what makes us Four Inc. If you'd like to join the Four Inc. family, check out Four Inc. Careers to learn more about our open positions.