Dec 03, 2019
We Are Family: Joe Mehan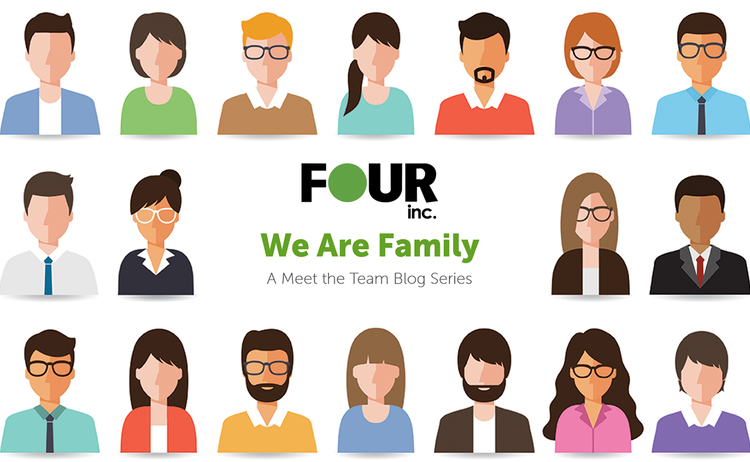 Featuring Joe Mehan

Thanks for joining the second edition of our "Four Inc. Meet the Team" blog series where we invite you to get to know our Four Inc. Family; the people that make this organization so great. This week we are excited to introduce our Account Executive, Joe Mehan!
Tell us a little about yourself.
I much prefer telling people about myself slowly through conversations as that allows me to sense what they actually care to hear from me, but since the "Four Inc. Spotlight" has shone on me, I figure I really should say something.
So let's step back in time together.
I was born in St. Louis, MO in 1989 in St. Mary's hospital. The same hospital where my other 6 older siblings were born. Speaking of siblings, I am in fact the youngest. I have 1 brother (Matt) and 5 sisters. Their names (in order of age) are: Meg, Matt, Clare, Mary Kathleen, Monica, and Elizabeth.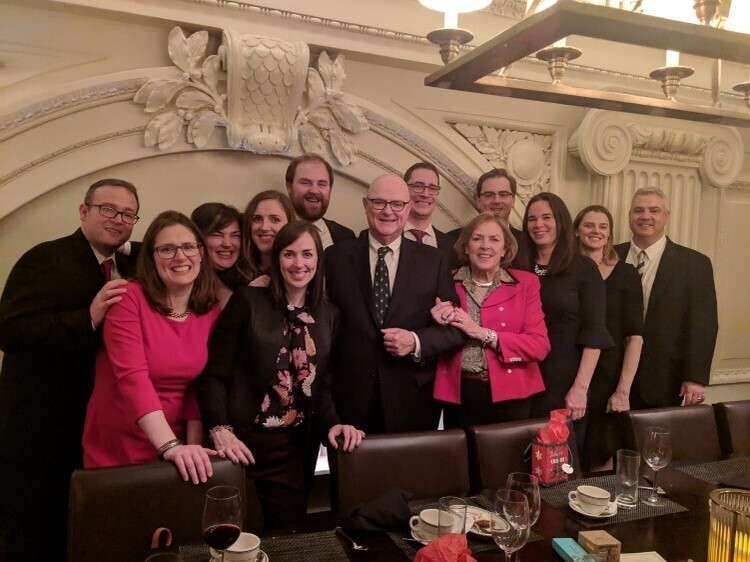 Between my 4 married siblings, I have 24 nieces and nephews…yes, we're Catholics. Though I'll spare you the long list of their names, I want to assure you that I am a good uncle in that I can at least remember all their names.
When I was 3, we moved to Michigan where I lived until I was 12. At which point, we moved to Vienna, VA where I lived until college.
I went to William and Mary where I double majored in Philosophy and English Literature, graduating in 2012.
Immediately after school, I worked in a few failed political campaigns before realizing politics was a poor personal financial decision.

I started at Four Inc. in May of 2013, which constitutes nearly the entirety of my professional working life.
Why did you decide to join the Four Inc. Family?
As I mentioned, I had recently ridden myself of the politics bug and was looking to make use of my studies in Philosophy and Literature so naturally I wanted to work in business. Naturally.
But seriously, I could lie and tell you I decided to join Four Inc. because I was looking for meaning and purpose and a family. But honestly, I had those already. Thus I can't say my motivation for starting at Four was anything more than that I needed a job that paid me enough money to move out of my parent's house. But there's more to this story than utilitarian motivation, I promise.
What is your Four Inc. Story?
As I said, I started at Four for less than inspiring reasons, but my "Four Inc. Story" is really about coming to realize just how lucky I was to find Four Inc. You may think me disingenuous, but I am a firm believer in the "Four Inc. Family". I'm probably about as cynical as they come so when I hear corporate marketing materials talking about "family", I tend to scoff and think "Corporate Social Responsibility run amok!" or "dang, they really must be trying to hire impressionable millennials." But with Four it's actually true!
The people I've worked closely with over these last 6.5 years are people I've really grown to love. Some of them are my dear friends and peers, while others possess a certain maternal or paternal quality. That is to say, they're looking out for you and there exists a relationship of mutual trust that rarely exists outside of the family setting.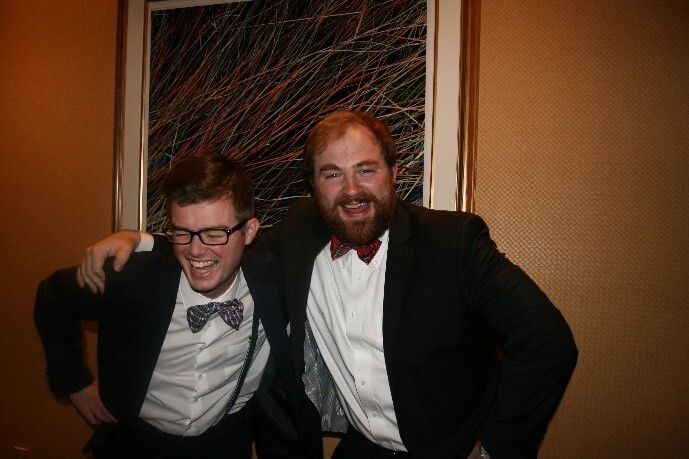 Now, I re-read these words as I write them and I realize I've described something that sounds like a cult. It's not, but I'll let someone else explain why. All I want to say is that my "Four Inc. Story" is coming to fully appreciate how special Four Inc. is in that the relationships you form here are not merely cordial business relationships. We all spend too much of our lives working at a job to let this time be spent merely with "colleagues"—in my mind a very cold term compared to "friends."
What does a typical day as an Account Executive look like?
I don't know the last time I had a 'typical day'. I can say that my general duties are: Managing the administration of our GSA & ITES-SW contract, business development activities to expand our industry relationships, supporting customer requirements on our ITES-SW contract, and more recently helping lead a major proposal .
What has been your biggest accomplishment since starting at Four Inc.?
My biggest accomplishment at Four Inc. is the ITES-SW 2 proposal response. That was a ton of fun to work on with everyone! Some scenarios call for extraordinarily hard work and extra hours, and when it's a special circumstance like End of the Government FY or a promising contract proposal, it's actually quite exciting. There's nothing like working late and getting that encouraging skype message from your boss who's also working late.
Additionally, I've enjoyed bringing some new companies into the Four Inc. ecosystem. It's been a great learning experience both in practice and in theory, getting awesome advice from our Four Inc. leadership.
Outside of work, what are your hobbies?
Since I graduated college, I've been continuously involved in professional mentoring programs. This started with inner-city middle school programs in D.C. and New York. I've also worked with High Schoolers and now college guys at the University of Notre Dame, where I live, in South Bend, IN. This takes up a lot of my out-of-work time, but it's an awesome experience trying to help these guys grow in character and professionalism. I've learned a ton about human nature and hopefully helped a few people along the way as well.
Other than that, I enjoy reading, I follow politics perhaps a bit too closely, and I've recently gotten more into letter-writing. I know letter-writing isn't really a hobby, but it's 2019 so it's certainly an oddity at least. It's a nice way to stay in touch with friends in what feels like a more meaningful way than mere texting.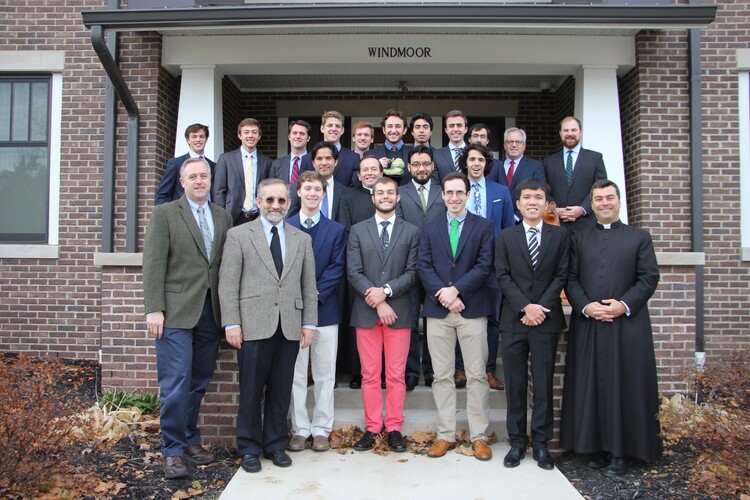 What is your best piece of advice that you'd like to share?
Don't ever hit 'snooze' on your alarm clock. I've been working a little bit with some neuroscientists at Harvard Medical School who are developing a professional mentoring tool that I've been using these last 2 years. Their research indicates that getting up immediately is the biggest "first step" in recovering mental health. Even more than that, the confidence this small thing gives is enough to help someone really change their life. It's the first thing I start with in my mentoring of college guys and it's been amazing to see how much it helps. A very wise man I know used to call the moment the alarm clock went off "the Heroic Minute"…and with good reason!
Here's what Joe's co-workers have to say about him!
"Joe is one of the best people I've ever worked with! Not only is he always so willing to take on work, he is also always there to help others by breaking down complex ideas into bite sized pieces for everyone to understand. He truly exemplifies – "Teamwork makes the Dream Work!" In addition to being professional, driven and a team player – Joe is also such a fun person to be around. He exudes happiness, which spreads to everyone around him. Joe always makes you feel comfortable and its easy to find yourself in an in-depth, scholarly conversation about the most amazing subjects. We are so lucky to have such an awesome team member like Joe here at Four Inc.!"
~ Laila Dastur, Business Development Representative
"Joe embodies Four Inc's motto of "Excellence" in not only his work, but in all aspects of life. Anyone who has met him or come within earshot knows that he is committed to giving his all in anything he does both inside and out of the office. While difficult to find, successful businesses require employees like Joe, which is why we all know that we are lucky to count him in our ranks."
~ Evan Maraist, Operations Analyst
"What I love most about Joe is that he challenges everyone he works with to be their best selves, both personally and professionally. He is a valued Four Inc. employee who lives out the Four Inc. Ten Commandments – which are based on integrity and hard work. Joe works remotely, but I know that his visits to our Virginia office guarantee quality, in-depth conversations that test my views on religion, life, or politics!"
~ Susan Anderson, Director of Finance
Join Us!
Our team at Four Inc. is one of the most unique and meaningful elements of our culture. Our Co-Founder and President of Four Inc., Greta Nolan, said it best, "Our biggest strength at Four Inc. is the employees we hire. We look for people with integrity, a strong work ethic, and amazing character along with the appropriate skill set." This is what makes us Four Inc. If you'd like to join the Four Inc. Family, check out Four Inc. Careers to learn more about our open positions.