Jan 22, 2020
We Are Family: Alex Porfirenko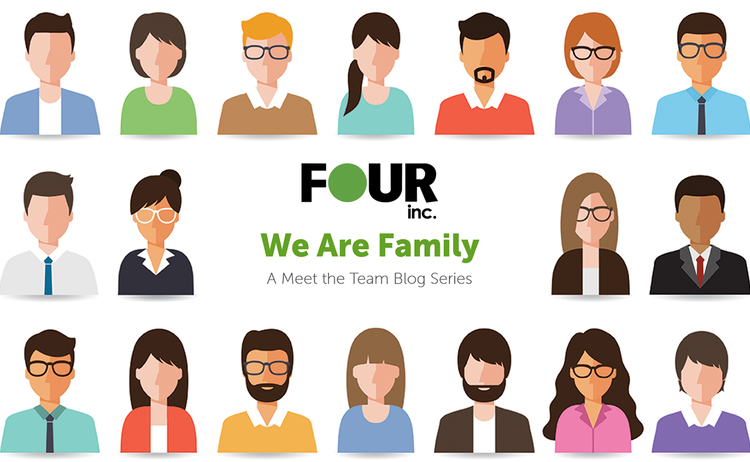 Featuring Alex Porfirenko

Thanks for joining post three of our "Four Inc. Meet the Team" blog series! We invite you to get to know our Four Inc. Family; the people that make this organization so great. This week we are excited to introduce our Services Director, Alex Porfirenko!
Tell us a little about yourself.
I've been very fortunate to have a wide variety of experiences in my life and each one has had an impact on me. I grew up in Kiev, Ukraine and came to the United States at the age of 12 without speaking a word of English nor knowing anything about the United States. After two years in Connecticut, we relocated to California. When I was 17, I headed back to Connecticut on an ice hockey scholarship to attend a prep school. I did my undergraduate education at Georgetown University in DC (with Four Inc. CFO Matthew Carullo) where I studied International relations. After college I did a brief stint with Investment Banking, Finance and Consulting industries before "settling down" in the Government contracting space in 2009.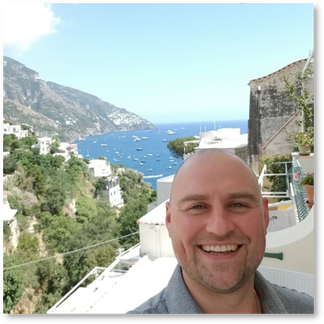 My wife, Catesby, makes fun of me because I claim to be an Easter European, an American, a Californian, a New Englander, a Virginian, a hockey player, a public-school kid, a prep-school kid… and a number of other things. I joke back that I have multiple personalities and I just choose whichever one is most convenient for me that day 😊.
Why did you decide to join the Four Inc. Family?
I heard a lot of good things about Four Inc. from my predecessor, Shaun Swartz, with whom I used to work at E3 Federal. He said "Four Inc. is exactly what they claim to be, a small business that treats each other like family". Having worked for large corporations before, along with one of the "beltway bandits", the small family environment and a company that was growing like crazy was exactly what I was looking for.
What is your Four Inc. Story?
Shaun called me about an opportunity with Four Inc. while I was on my honeymoon with Catesby in Greece. I flew back to DC on Saturday, interviewed with co-founders Jeff & Greta Nolan on Wednesday… and accepted the offer on Friday. So, within a four-week period I got married, switched jobs and bought a car so I could commute to work. October/November 2016 was a busy time in my life!
What does a typical day as a Services Director look like?
Short answer – there is no such thing as a typical day for me, and I actually really enjoy that about my job. I have two concrete tasks I have to do every month. First, I produce Monthly Status Reports, working closely with our Accounting team on invoicing. Second, every Thursday I meet with our USAID clients in Crystal City. Outside of those two concrete tasks, every day is different.
I am often on the phone with our Federal Clients and our Subcontractors to make sure we are delivering against our contractual obligations. Since things change all the time, I work closely with our Operations department to modify subcontracts or process modifications with our Government clients.
I try to stay in constant touch with our Four Inc. employees stationed at the USDA in Ft. Collins, Colorado because they are doing tremendous things on that engagement. I also work in conjunction with our SEWP Program Manager whenever there is a question related to software/NASA SEWP on our contracts.
Finally, I work with the Sales Department and Corporate Development whenever we are looking at new opportunities that involve services. Overall, it's a demanding job but it provides me with a great deal of satisfaction when I see the result of our works through our Federal clients.
What has been your biggest accomplishment since starting at Four Inc.?
The biggest accomplishment is probably working with Bree Burk, Four Inc.'s Operations Director, to streamline the reporting and billing procedures with our subcontractors. We found that our subcontractor and Government invoicing, reporting timelines and expectations were out of sync. Bree and I worked together to change our subcontract agreements and internal procedures to clarify expectations and deadlines. Ever since we instituted the changes, we have experienced excellent results, ultimately resulting in a more positive experience for all parties!
Outside of work what are your hobbies?
I play ice hockey every Wednesday and Friday night. Hockey has been a part of my life since I was seven years old.
My wife Catesby and I also do a lot of events with the Russian and Ukrainian communities in the area. Catesby is fluent in Russian and lived in Moscow for two years – so we try to stay fluent with the language and current with all the events that are going on.
Catesby and I really enjoy traveling and exploring new places in the world. Over the last two summers, in particular, we got to see a lot of places in Europe and are thinking about our next trip.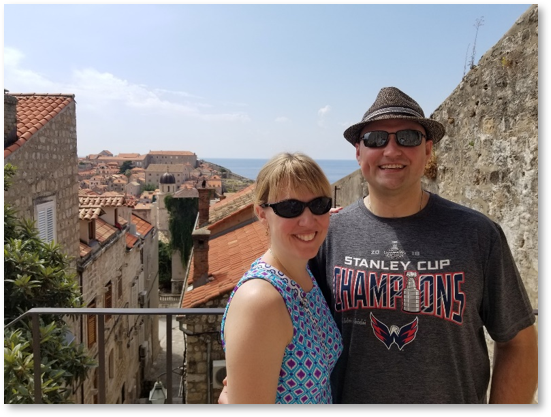 What is your best piece of advice that you'd like to share?
Keep learning! Technology keeps changing our world and I think the pace will only increase going forward. Learning new things is the only way we can keep up with all of the changes.
Here's what Alex's co-workers have to say about him!
"Alex is a great guy with a contagious laugh. I can't count the times we've been working on difficult or complex tasks and he's often the first one to break the tension with a good joke or anecdote. I also always appreciate his worldly perspective, it really helps with the various clients we support on a daily basis."
~ Michael Lucas, CHESS Program Manager
"Before joining Four Inc. I never met my last two managers in person because they lived in another state. Ironically, those managers were physically closer to Colorado than Alex is. Yet, I have had dinner with Alex's lovely wife Catesby three times (at each Christmas party). When I went to California for training I also spent an entire evening exploring Palo Alto with Alex's mom, who is as proud of Alex as she should be and also spoiled me rotten! Alex was the one who encouraged me to bring my husband and kids into the office last year when we were visiting from Colorado. Because he welcomed them in, my family had a great time meeting everyone and playing ping pong! Four Inc. is definitely a family, and Alex, with his sharp sense of humor and wisdom beyond his years, enhances the contentedness of our Four Inc. Family in all that he does and the way he represents us."
~Amanda Adams, Senior PMO Specialist
"You look at Alex's title and it's impressive -Services Director, PMP, FAC-COR Level II certified. No, he is not a doctor but these are all necessary certifications to become an effective program manager. Alex plays a critical role at Four Inc. ensuring we remain contractually compliant as we execute our services contracts. There are two things that stand out about Alex. First, he plays the role of mediator extremely well as he balances out the demands of a government customer and the execution of delivery services which are being performed by other parties. Not easy to manage, but he does it well. Second, Alex is a team player always willing to jump in and help the resale group. Whether it is responding to a services quote or putting together a more complex SOW in response to a proposal. His title reflects professionalism in what he does, he cares about supporting the broader team and we are lucky to have him."
~David Stewart, Vice President of Corporate Development

Join Us!
Our team at Four Inc. is one of the most unique and meaningful elements of our culture. Our Co-Founder and President of Four Inc., Greta Nolan, said it best, "Our biggest strength at Four Inc. is the employees we hire. We look for people with integrity, a strong work ethic, and amazing character along with the appropriate skill set." This is what makes us Four Inc. If you'd like to join the Four Inc. Family, check out Four Inc. Careers to learn more about our open positions.